Rock's Pot Grids – Better Drainage, No Blockages & reduces Root Rot.
Growing crops with hydroponics is not easy. Save time, money and hassle with the best equipment by improving drainage and boosting root growth.

Pot Grids are simple reusable plastic grids that are placed at the bottom of you grow pot.
This simple introduction to your hydroponic system eliminates the need for a second pot, saving money, time and hassle. All you need is a single pot which is plumbed to drain, then place the Pot Grid in the bottom of your pot. Then we'd recommend keeping things simple – so add a Pot Sox, add your growing medium and you're ready to grow.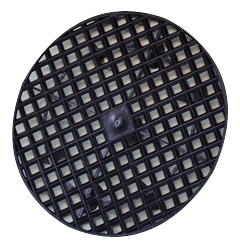 Advantages of using Pot Grids are:
No second drainage pot required, saving you money, time and hassle
It's so easy to clean, saving further time
Huge improvement in your systems/plants' drainage
Increase the levels of aeration for your plant's root systems
Completely reusable and super durable to ensure value for money
Find a retailer near you.